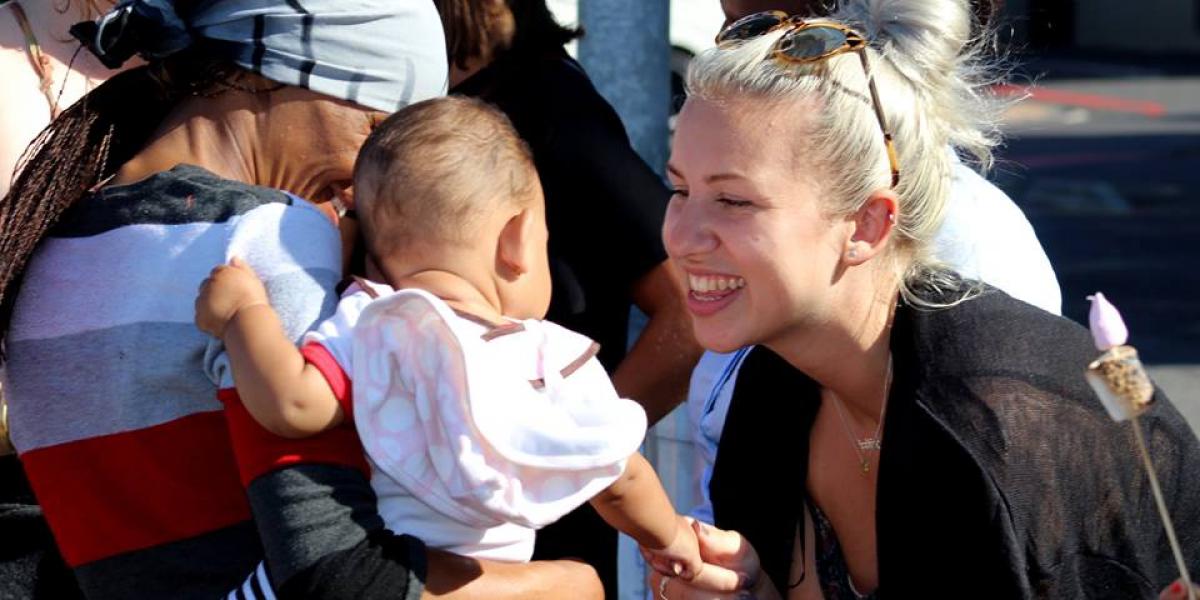 Interview with Tove - past Intern
What are you studying back in Sweden? Please also give some details about your course and field of interest –
At the time of my internship I was studying Social work back home. It was during my fifth semester of my bachelor's degree that I came to intern in Cape Town. For my chosen courses I had focused on crime and  youth mostly, during the previous semester of the programme. However, when I came to South Africa I was interested in doing some sort of work involving women. That is the reason I ended up interning at St Anne's, a home for women who have suffered from abuse.
What interested you about doing an internship or volunteering in Cape Town?
I have always had an idea that I might want to work internationally, or outside of Sweden at some point. When I was given the opportunity to choose where in the world I wanted to intern I felt right away that it was a great chance to learn about social work in a different context than the Swedish one. I had visited Cape Town once before and absolutely loved the city, so it was one of the first places that came to mind. I knew however, that it is a place where you have to know your areas and stuff in order to be safe. I also figured it might be difficult to convince an organisation to take me as an intern, as I had no connections there whatsoever. After some research I found African Sunrise and felt that going with them would be a good compromise. I would have people in Cape Town to help me find my way around, teach me about safety and such, but I would still be in a very different context than the Swedish one. I felt that it would be such an amazing opportunity to learn and grow. Both professionally and personally.
Is life in Cape Town / South Africa different to your original expectations?
Since I had been to Cape Town before, I had some ideas of what to expect already. I would say however, that I never expected to get so attached to the place and the people. After just a few months of being in Cape Town I felt so at home, which has resulted in me coming back twice since.
What are your long-term plans when you return to Sweden?
So it has now been about  two years since I finished my internship in Cape Town. Since then I have graduated from my Social Work studies and worked at a youth centre in Sweden. Before I graduated however, I came back to Cape Town the semester after I completed my internship, to conduct research for my bachelor thesis. The thesis was on the topic of gang culture in Cape Town, so me and my friend came back to conduct interviews and write that, in Cape Town as well. I am currently living in Cape Town, since January of 2019, attending postgrad studies at University of Cape Town.
What advice do you have for other potential volunteers and interns?
I know it seems quite scary and like a big step to take, but I also know that it is worth it. And I don't think I'm just saying that based on the fact that I had such a good experience here during my first long stay. I think I am rather basing that on the fact that all the risks I have taken in life so far, when it comes to things that I really want to do but find scary or difficult, have turned out to be worthwhile. Not saying they have all turned out how I had wished they would when I first started, but that they have always turned out to be amazing learning experiences, that have forced me to grow as a person. I think it is only when we force ourselves to do the uncomfortable things in life that we can truly find out who we can really be.
Tell us a bit about Sweden and why people from Cape Town/South Africa should visit your home country?
I don't think there is anything more peaceful than a Swedish summer night. There is something about that time in Sweden, when everything is green, darkness only comes by midnight and stays for a few hours, and people are making the most of every day. There isn't much that can beat that feeling! Also, the Swedish people are friendly and helpful. You might not see it always, because they are not the most extrovert people on the planet, but I promise you, if you look closer you will find a lot of love and warmth.